Former Main Street, Lawrenceburg, Inc. Director Indicted for Theft
Friday, January 27, 2023 | 10:00am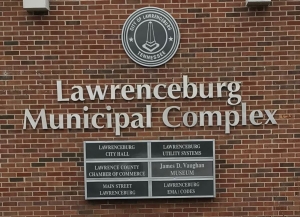 An investigation by the Tennessee Comptroller's Office has resulted in the indictment of April Judkins, the former director of Main Street, Lawrenceburg Inc. (MSL), a non-profit organization that worked toward economic restoration and revitalization of historic downtown Lawrenceburg.
Main Street, Lawrenceburg, Inc. was also the custodian of the funds of the James D. Vaughan Quartet Festival (JDV). Although JDV and MSL were each governed by separate boards, Judkins maintained their accounts and met with each board separately.
Investigators determined that from November 2015 through December 2018, Judkins stole MSL and JDV funds totaling $12,488.72.
Judkins stole this money by issuing herself unauthorized paychecks, unauthorized reimbursements for cell phone bills, extra expense reimbursements, withdrawing cash for personal use, and issuing herself an unauthorized bonus.
Additionally, investigators identified questionable transactions between the MSL and JDV accounts totaling $57,473.45.
Investigators observed one note about a transfer between these accounts in the December 2014 meeting minutes of the MSL board of directors; however, no other MSL board minutes or documentation mentioned or approved any transfers through the end of Judkins's tenure as MSL Director. Neither the MSL or JDV boards had been made aware of the $57,473.45 in transfers and payments noted in the investigative report.
As of January 1, 2019, the JDV account balance was $167.11, and the MSL account balance was $162.69. Judkins concealed this information from both boards until a new MSL board treasurer obtained bank statements and reported the suspicious payments to other board members in February 2019. April Judkins resigned in February 2019.
Today, the MSL has a new director and board and has unofficially rebranded itself as Downtown Lawrenceburg. Management and control of JDV has been assumed by private interests.
On January 26, 2023, the Lawrence County Grand Jury indicted April Judkins for one count of theft of property over $10,000 and two counts of money laundering offenses.
"A board of directors has a duty to ensure it is providing proper oversight of operations and finances," said Comptroller Jason Mumpower. "The former director was the only person in charge of the recordkeeping of MSL's and JDV's funds. Bank reconciliations were never completed during her tenure, and no review of her work was conducted until early 2019. A lack of oversight can lead to a scheme going undetected for years."
To view the investigative report, go to tncot.cc/doireports. To view a map depicting Comptroller investigations, go to tncot.cc/mappinginvestigations.
If you suspect fraud, waste, or abuse of public money in Tennessee, call the Comptroller's toll-free hotline at 800.232.5454, or file a report online at: tncot.cc/fraud. Follow us on twitter @TNCOT and Instagram @tncot.
Media contact: John Dunn, Director of Communications, 615.401.7755 or john.dunn@cot.tn.gov
Related Links: