Witt Utility District Manager and Brother Indicted
District serves customers in Hamblen and Jefferson counties
Wednesday, May 17, 2023 | 09:00am
An investigation by the Tennessee Comptroller's Office, working in conjunction with the Tennessee Bureau of Investigation, has resulted in the indictments of Witt Utility District manager Benjamin Harris and his brother, Joseph Harris, who serves as the district water treatment operator.
The investigation covers the period July 1, 2021, through March 15, 2023, and outlines a number of findings. Some of these include: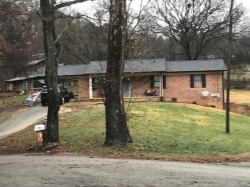 Benjamin Harris misappropriated at least $12,000 by paying a contractor with district money to install a new roof and gutters on his personal residence.
Benjamin Harris received questionable overtime payments of at least $67,392 from January to August 2022. Investigators found no documentation to support this work. During this eight month period, Harris was paid for an average of 18.65 total daily hours worked (5-day work week).
Benjamin Harris purchased concrete with district funds, and he used a portion of it to construct a small porch on a board commissioner's farm.
Benjamin and Joseph Harris used the district's bobcat to perform work at a private business.
On multiple occasions, Benjamin Harris traveled in a district-owned truck to a sports bar in Knoxville after normal working hours. Harris admitted to consuming alcoholic beverages during these visits.
Employees of the district worked on their personal vehicles in the district's maintenance garage.
Investigators questioned the use of $5,243 in district funds that were spent to purchase items such as food, fuel, and supplies that were not supported with itemized receipts or documentation.
The district did not solicit competitive sealed bids for multiple purchases and projects.
Based upon this investigation, on May 15, 2023, the Hamblen County Grand Jury indicted Benjamin Harris for one count of theft of property over $10,000, one count of theft of property of $1,000 or less, and three counts of official misconduct. Joseph Harris was also indicted on one count of official misconduct.
"Our investigators have noted numerous deficiencies within this utility district that require corrective action," said Comptroller Mumpower. "The board failed in its fiduciary responsibility to ensure the best use of funds for projects and failed to provide adequate oversight of manager decisions, operations, and expenses."
To view the investigative report, go to tncot.cc/doireports. To view a map depicting Comptroller investigations, go to tncot.cc/mappinginvestigations.
If you suspect fraud, waste, or abuse of public money in Tennessee, call the Comptroller's toll-free hotline at 800.232.5454, or file a report online at: tncot.cc/fraud. Follow us on twitter @TNCOT and Instagram @tncot.
Media contact: John Dunn, Director of Communications, 615.401.7755 or john.dunn@cot.tn.gov
Related Links: