Budget Certificate - Recognition to Local Officials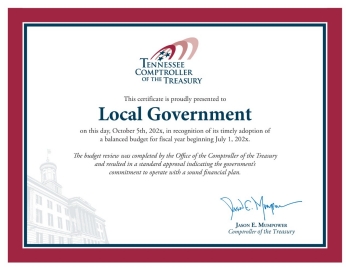 State law requires every county, municipality, and utility district in Tennessee to adopt an annual budget. To be effective, a budget should be adopted prior to the beginning of the fiscal year. The budget should also be based on reliable estimates, structurally balanced, provide for cash liquidity, allow for adequate reserves, monitored throughout the year, and amended as necessary. See our Seven Keys to a Fiscally Well-Managed Government.
Local officials that adopt budgets meeting the following specific criteria are awarded an annual certificate from the Comptroller of the Treasury:
The budget was adopted on or before the fiscal year end;
The budget was filed with our office within 15 days of adoption;
No issues of concern were raised during our review of the budget; and
The local government is not currently under the oversight of the Tennessee Board of Utility Regulation.
Current Certificate Recipients - FY 2024
| | |
| --- | --- |
| Anderson County | Marshall County |
| Bedford County | McNairy County |
| Blount County | Metropolitan Government of Hartsville and Trousdale County |
| Campbell County | Metropolitan Government of Nashville and Davidson County |
| Cannon County | Monroe County |
| Cheatham County | Roane County |
| Decatur County | Scott County |
| DeKalb County | Sevier County |
| Fayette County | Stewart County |
| Franklin County | Sumner County |
| Giles County | Unicoi County |
| Hamblen County | Union County |
| Hamilton County | Warren County |
| Henderson County | Washington County |
| Hickman County | White County |
| Knox County | Williamson County |
| Loudon County | Wilson County |
| Marion County |   |
| | | |
| --- | --- | --- |
| Adams | Enville | Mosheim |
| Alexandria | Estill Springs | Mountain City |
| Algood | Etowah | Mt. Juliet |
| Altamont | Forest Hills | Murfreesboro |
| Ardmore | Gallatin | New Hope |
| Arlington | Germantown | New Tazewell |
| Ashland City | Goodlettsville | Nolensville |
| Athens | Greenback | Oak Ridge |
| Auburntown | Henderson | Orme |
| Bartlett | Henry | Parkers Crossroads |
| Baxter | Jefferson City | Pegram |
| Blaine | Jonesborough | Piperton |
| Carthage | Kimball | Pleasant Hill |
| Cedar Hill | Kingston | Pleasant View |
| Centertown | Kingston Springs | Pulaski |
| Chapel Hill | Knoxville | Red Bank |
| Charleston | Lafayette | Ridgeside |
| Charlotte | Lakesite | Ripley |
| Chattanooga | Lookout Mountain | Rockford |
| Clarksville | Loudon | Rockwood |
| Collierville | Maryville | Sevierville |
| Cookeville | Maynardville | Shelbyville |
| Cornersville | McLemoresville | Springfield |
| Cowan | McMinnville | Stantonville |
| Dandridge | Medina | Tazewell |
| Dayton | Medon | Thompson's Station |
| Dowelltown | Monteagle | Trenton |
| Eagleville | Morrison | Unicoi |
| East Ridge | Morristown | Whiteville |
| | |
| --- | --- |
| Alpha-Talbott Utility District | Mallory Valley Utility District |
| Arthur-Shawanee Utility District | Middle Tennessee Natural Gas Utility District |
| Bangham Utility District | Milcrofton Utility District |
| Bedford County Utility District | Natural Gas Utility District of Hawkins County |
| Bon De Croft Utility District | Nolensville-College Grove Utility District |
| Cagle-Fredonia Utility District | North Stewart Utility District |
| Calhoun-Charleston Utility District | North Utility District of Decatur and Benton Counties, TN |
| Castalian Springs-Bethpage Utility District | North Utility District of Rhea County |
| Cedar Grove Utility District | North West Utility District |
| Center Grove-Winchester Springs Utility District | Northeast Henry County Utility District |
| Chuckey Utility District | Northeast Knox Utility District |
| Consolidated Utility District of Rutherford County | Northwest Dyersburg Utility District |
| Cookeville Boat Dock Road Utility District | Northwest Henry Utility District |
| Copper Basin Utility District | Oak Ridge Utility District |
| Cordell Hull Utility District | Ocoee Utility District |
| County Wide Utility District | Old Gainesboro Road Utility District |
| Crockett Public Utility District | Paris-Henry County Public Utility District |
| Cumberland Utility District of Roane and Morgan Counties | Persia Utility District |
| Cunningham Utility District | Plateau Utility District |
| DeKalb Utility District | Poplar Grove Utility District |
| DeWhite Utility District | Powell Valley Utility District |
| East Montgomery Utility District | Powell-Clinch Utility District |
| Eastside Utility District | Public Utility District of Jefferson and Cocke Counties |
| Elk River Public Utility District | Reelfoot Lake Regional Utility and Planning District |
| Fall River Road Utility District | Riceville Utility District |
| First Utility District of Carter County | River Road Utility District |
| First Utility District of Hardin County | Roane Central Utility District |
| First Utility District of Hawkins County | Russellville-Whitesburg Utility District |
| First Utility District of Tipton County | Savannah Valley Utility District |
| Gibson County Utility District | Second South Cheatham Utility District |
| Gladeville Utility District | Sevier County Utility District |
| Glen Hills Utility District | Shady Grove Utility District |
| Grandview Utility District | Smith Utility District |
| H.B. and T.S. Utility District | South Blount County Utility District |
| Hallsdale-Powell Utility District | South Carroll Utility District |
| Hampton Utility District | South Cumberland Utility District |
| Harbor Utility District | South Elizabethton Utility District |
| Hardeman-Fayette Utility District | South Giles Utility District |
| Harpeth Valley Utility District | Surgoinsville Utility District |
| Hendersonville Utility District | Sylvia-Tennessee City-Pond Utility District |
| Hillsville Utility District | Unicoi County Gas Utility District |
| Hixson Utility District | Warren County Utility District |
| Humphreys County Utility District | Watts Bar Utility District |
| Huntsville Utility District | West Cumberland Utility District |
| Knox-Chapman Utility District | West Knox Utility District |
| Laguardo Utility District | West Overton Utility District |
| Lake County Utility District | West Stewart Utility District of Stewart County |
| Lakeview Utility District | West Warren-Viola Utility District |
| Madison Suburban Utility District of Davidson County | White House Utility District |
| | |
| --- | --- |
| Hamilton County Water & Wastewater Treatment Authority | Water & Wastewater Treatment Authority of Coffee County |
| Watauga River Regional Water Authority | Water Authority of Dickson County |
| Water & Wastewater Authority of Wilson County | West Robertson Water Authority |
| | | |
| --- | --- | --- |
| Erwin Utilities Authority | Paris Utility Authority |   |
| Jackson Energy Authority | Union City Energy Authority |   |
| | |
| --- | --- |
| Anderson County | Lawrence County |
| Bedford County | Loudon County |
| Benton County | Madison County |
| Bledsoe County | Marion County |
| Blount County | McNairy County |
| Campbell County | Metropolitan Government of Hartsville and Trousdale County |
| Cheatham County | Montgomery County |
| Coffee County | Pickett County |
| Dyer County | Roane County |
| Gibson County | Scott County |
| Giles County | Sevier County |
| Greene County | Smith County |
| Hamilton County | Stewart County |
| Hardin County | Union County |
| Henderson County | Warren County |
| Hickman County | White County |
| Houston County | Williamson County |
| Knox County |   |
| | | |
| --- | --- | --- |
| Adams | Estill Springs | Mountain City |
| Alcoa | Farragut | Murfreesboro |
| Alexandria | Fayetteville | Nolensville |
| Algood | Finger | Norris |
| Altamont | Forest Hills | Oak Ridge |
| Arlington | Friendsville | Paris |
| Ashland City | Germantown | Parkers Crossroads |
| Athens | Greenback | Pegram |
| Auburntown | Greenfield | Pigeon Forge |
| Baileyton | Gruetli-Laager | Piperton |
| Bartlett | Guys | Pittman Center |
| Baxter | Henry | Plainview |
| Belle Meade | Hickory Valley | Pleasant Hill |
| Berry Hill | Hohenwald | Pleasant View |
| Braden | Jackson | Portland |
| Brentwood | Jefferson City | Red Bank |
| Brownsville | Kimball | Ridgeside |
| Byrdstown | Kingston Springs | Ridgetop |
| Centertown | Knoxville | Ripley |
| Charleston | La Grange | Rives |
| Charlotte | Lafayette | Rockford |
| Chattanooga | Lakeland | Rockwood |
| Clarksville | LaVergne | Saulsbury |
| Clinton | Lookout Mountain | Savannah |
| Coalmont | Loudon | Soddy-Daisy |
| Collegedale | Maryville | Somerville |
| Collierville | McMinnville | Springfield |
| Columbia | Medina | Sweetwater |
| Cookeville | Medon | Thompson's Station |
| Crab Orchard | Memphis | Three Way |
| Cumberland City | Michie | Tracy City |
| Dandridge | Middleton | Unicoi |
| Dover | Milan | Union City |
| Dowelltown | Milledgeville | Vonore |
| Eagleville | Monteagle | Walden |
| Eastview | Morrison | Watauga |
| Elizabethton | Morristown | White House |
| Enville | Mosheim | Winchester |
| Erwin | Mount Juliet |   |
| | |
| --- | --- |
| Alpha-Talbott Utility District | Middle Tennessee Natural Gas Utility District |
| Arthur-Shawanee Utility District | Milcrofton Utility District |
| Bloomingdale Utility District | Nolensville-College Grove Utility District |
| Blountville Utility District | North Utility District of Decatur and Benton Counties, TN |
| Castalian Springs-Bethpage Utility District | North Utility District of Rhea County |
| Center Grove-Winchester Springs Utility District | Northeast Henry County Utility District |
| Chuckey Utility District | Northeast Knox Utility District |
| Claiborne Utilities District | Northwest Dyersburg Utility District |
| Consolidated Utility District of Rutherford County | Oak Ridge Utility District |
| Cookeville Boat Dock Road Utility District | Ocoee Utility District |
| Cordell Hull Utility District | O'Connor Utility District |
| Crab Orchard Utility District | Old Gainesboro Road Utility District |
| Crockett Public Utility District | Old Knoxville Highway Utility District |
| Cross Anchor Utility District | Paris-Henry County Public Utility District |
| Cumberland Utility District of Roane and Morgan Counties | Persia Utility District |
| Cunningham Utility District | Poplar Grove Utility District |
| DeKalb Utility District | Powell-Clinch Utility District |
| DeWhite Utility District | Public Utility District of Jefferson and Cocke Counties |
| East Montgomery Utility District | Quebeck-Walling Utility District |
| East Sevier County Utility District | Reelfoot Lake Regional Utility and Planning District |
| Eastside Utility District | Riceville Utility District |
| Fall Creek Falls Utility District | River Road Utility District |
| First Utility District of Carter County | Roane Central Utility District |
| First Utility District of Tipton County | Russellville-Whitesburg Utility District |
| Gibson County Utility District | Saltillo Utility District |
| Gladeville Utility District | Savannah Valley Utility District |
| Glen Hills Utility District | Sevier County Utility District |
| Grandview Utility District | Smith Utility District |
| Hallsdale-Powell Utility District | South Blount County Utility District |
| Hampton Utility District | South Cumberland Utility District |
| Harbor Utility District | South Elizabethton Utility District |
| Hardeman-Fayette Utility District | South Fork Utility District |
| Hendersonville Utility District | Summertown Utility District |
| Hillsville Utility District | Sylvia-Tennessee City-Pond Utility District |
| Hixson Utility District | Unicoi Water Utility District |
| Hornbeak Utility District | Union Fork-Bakewell Utility District |
| Horton Highway Utility District | Walden's Ridge Utility District |
| Humphreys County Utility District | Warren County Utility District |
| Huntsville Utility District | Watts Bar Utility District |
| Knox-Chapman Utility District | West Cumberland Utility District |
| Laguardo Utility District | West Knox Utility District |
| Lake County Utility District | West Overton Utility District |
| Lakeview Utility District | West Stewart Utility District of Stewart County |
| Madison Suburban Utility District of Davidson County | West Warren-Viola Utility District |
| Mallory Valley Utility District | White House Utility District |
| | |
| --- | --- |
| Anderson County Water Authority | Water Authority of Dickson County |
| Hamilton County Water and Wastewater Treatment Authority | West Robertson Water Authority |
| Water & Wastewater Authority of Wilson County |   |
| | |
| --- | --- |
| Bedford County | Knox County |
| Blount County | Lawrence County |
| Cannon County | Madison County |
| Carroll County | Marshall County |
| Chester County |  McMinn County |
| Coffee County | McNairy County |
| Dyer County | Metro-Trousdale County |
| Fentress County | Monroe County |
| Gibson County | Overton County |
| Giles County | Pickett County |
| Greene County | Roane County |
| Hamblen County | Robertson County |
| Hamilton County | Sevier County |
| Hickman County | Smith County |
| Houston County | Union County |
| Humphreys County | Warren County |
| Jefferson County | White County |
| Johnson County |   |
| | | |
| --- | --- | --- |
| Adams | Gallatin | Norris |
| Alamo | Greenback | Oak Ridge |
| Algood | Gruetli-Laager | Paris |
| Ardmore | Guys | Parkers Crossroads |
| Arlington | Henry | Pegram |
| Auburntown | Hollow Rock | Pittman Center |
| Baileyton | Jefferson City | Plainview |
| Baxter | Johnson City | Pleasant View |
| Bolivar | Kimball | Pulaski |
| Brentwood | Kingston Springs | Ridgetop |
| Brownsville | Knoxville | Ripley |
| Byrdstown | Lafayette | Rives |
| Caryville | Lakeland | Rockford |
| Cedar Hill | Lakesite | Saulsbury |
| Centertown | LaVergne | Savannah |
| Clarksville | Lebanon | Selmer |
| Collegedale | Lenoir City | Sevierville |
| Collierville | Loretto | Shelbyville |
| Columbia | Loudon | Slayden |
| Cookeville | Madisonville | Smyrna |
| Cornersville | Martin | Springfield |
| Crossville | Maryville | Tazewell |
| Dandridge | Maynardville | Thompson's Station |
| Dayton | McLemoresville | Three Way |
| Dickson | Medina | Townsend |
| Dover | Milledgeville | Trenton |
| Eagleville | Millington | Tullahoma |
| Elizabethton | Monteagle  | Unicoi |
| Enville | Morristown | Vonore |
| Ethridge | Mountain City | Watauga |
| Etowah | Mufreesboro | Westmoreland |
| Farragut | New Tazewell | White House |
| Forest Hills | Newport  | Winfield |
| | |
| --- | --- |
| Arthur-Shawanee Utility District | Mallory Valley Utility District |
| Bloomingdale Utility District | Middle Tennessee Natural Gas Utility District |
| Blount County Fire Protection District | North Utility District of Decatur and Benton Counties, Tennessee |
| Blountville Utility District | North Utility District of Rhea County |
| Bon De Croft Utility District | Northeast Henry County Utility District |
| Cagle-Fredonia Utility District | Northeast Knox Utility District |
| Castalian Springs-Bethpage Utility District | Northwest Dyersburg Utility District |
| Center Grove-Winchester Springs Utility District | Oak Ridge Utility District |
| Chuckey Utility District | O'Connor Utility District |
| Claiborne Utility District | Old Knoxville Highway Utility District |
| Cookeville Boat Dock Road Utility District | Paris Henry County Public Utility District |
| Cordell Hull Utility District | Poplar Grove Utility District |
| County Wide Utility District | Powell-Clinch Utility District |
| DeKalb Utility District | Public Utility District of Jefferson and Cocke Counties |
| Dewhite Utility District | Reelfoot Lake Regional Utility and Planning District |
| East Montgomery Utility District | Reelfoot Utility District |
| Eastside Utility District | Riceville Utility District |
| Elk River Public Utility District | Roane Central Utility District |
| Fall Creek Falls Utility District | Savannah Valley Utility District |
| First Utility District of Carter County | Sevier County Utility District |
| First Utility District of Knox County | Shady Grove Utility District |
| Gladeville Utility District | Smith Utility District |
| Glen Hills Utility District | South Blount County Utility District |
| Hampton Utility District | South Elizabethton Utility District |
| Harpeth Valley Utility District | Surgoinsville Utility District |
| Hendersonville Utility District | Sylvia-Tennessee City-Pond Utility District |
| Hixson Utility District | Tuckaleechee Utility District |
| Hornbeak Utility District | West Knox Utility District |
| Horton Highway Utility District | West Overton Utility District |
| Humphreys County Utility District | West Warren-Viola Utility District |
| Huntsville Utility District  | West Wilson Utility District |
| Knox-Chapman Utility District | White House Utility District |
| Madison Suburban Utility District of Davidson County |   |
| | |
| --- | --- |
| Cheatham County Water and Wastewater Authority | Water Authority of Dickson County |
| Watauga River Regional Water Authority | West Robertson Water Authority |
| Water & Wastewater Authority of Wilson County |   |
| | |
| --- | --- |
| Bedford County | Robertson County |
| Benton County | Scott County |
| Blount County | Sevier County |
| Greene County | Stewart County |
| Hamilton County | Union County |
| Hickman County | Washington County |
| Jefferson County | White County |
| Lawrence County | Wilson County |
| Maury County |   |
| | | |
| --- | --- | --- |
| Algood | Etowah | Pigeon Forge |
| Ardmore | Farragut | Piperton |
| Athens | Forest Hills | Pittman Center |
| Auburntown | Friendsville | Plainview |
| Baneberry | Goodlettsville | Powells Crossroads |
| Bolivar | Greenback | Pulaski |
| Brentwood | Gruetli-Laager | Ridgeside |
| Byrdstown | Guys | Ripley |
| Carthage | Hollow Rock | Rives |
| Caryville | La Vergne | Rockford |
| Centerville | Lakeland | Saulsbury |
| Charleston | Lakesite | Sevierville |
| Chattanooga | Lawrenceburg | Shelbyville |
| Church Hill | Loretto | Smyrna |
| Clarksville | Lynnville | Soddy-Daisy |
| Collegedale | Madisonville | South Pittsburg |
| Columbia | Maryville | Sparta |
| Cookeville | Medon | Sweetwater |
| Cornersville | Middleton | Tazewell |
| Covington | Monteagle | Townsend |
| Cumberland Gap | Mount Pleasant | Trenton |
| Dandridge | Munford | Watauga |
| Decaturville | Newport | Westmoreland |
| Dickson | Norris | White House |
| Dover | Oak Ridge | Winchester |
| Dresden | Paris | Winfield |
| Elizabethton | Pegram |   |
| | |
| --- | --- |
| Bean Station Utility District | New Canton Utility District |
| Blount County Fire Protection District | New Market Utility District |
| Castalian Springs-Bethpage Utility District | Nolensville-College Grove Utility District |
| Center Grove-Winchester Springs Utility District | North Utility District of Decatur and Benton Counties, Tennessee |
| Chuckey Utility District | North Utility District of Rhea County |
| Cordell Hull Utility District | North West Utility District |
| Crab Orchard Utility District | Northeast Knox Utility District |
| Cumberland Heights Utility District | Northwest Dyersburg Utility District |
| Cumberland Utility District of Roane and Morgan Counties | Oak Ridge Utility District |
| Cunningham Utility District | O'Connor Utility District |
| DeKalb Utility District | Old Knoxville Highway Utility District |
| Dewhite Utility District | Perryville Utility District |
| East Fork Utility District | Persia Utility District |
| East Montgomery Utility District | Pleasant View Utility District |
| Fall Creek Falls Utility District | Poplar Grove Utility District |
| Gladeville Utility District | Powell Valley Utility District |
| Grandview Utility District | Powell-Clinch Utility District |
| Hampton Utility District | Quebeck-Walling Utility District |
| Harpeth Valley Utility District | Reelfoot Lake Regional Utility and Planning District |
| Hendersonville Utility District | Riceville Utility District |
| Hornbeak Utility District | Roane Central Utility District |
| Horton Highway Utility District | Russellville-Whitesburg Utility District |
| Huntsville Utility District | Sewanee Utility District |
| Jefferson-Cocke Counties Utility District | Smith Utility District |
| Knox-Chapman Utility District | South Bristol-Weaver Pike Utility District |
| Laguardo Utility District | South Elizabethton Utility District |
| Lakeview Utility District | West Knox Utility District |
| Madison Suburban Utility District of Davidson County | West Warren-Viola Utility District |
| Mallory Valley Utility District | West Wilson Utility District |
| Middle Tennessee Natural Gas Utility District | White House Utility District |